our products
Access Floors
Netline Access Floor Systems are suitable for most applications such as Offices, Data Centres and Computer Rooms. Manufactured to PSA and BS EN standards and comply with ISO 9001:2015 Quality Management, ISO 14001:2015 Environmental Management and ISO 18001 Occupational Health and Safety.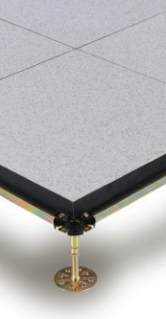 Calcium


Sulphate

Environmentally friendly and with excellent acoustic property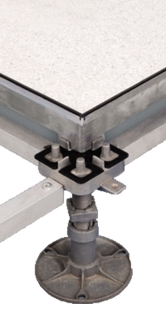 Aluminium
Industry standard for clean environment applications
products
steel cementitious
access floors
TÜV SÜD PSB Certified Raised Access Floor Systems.
Green Label Certified by the Singapore Environmental Council.
Manufactured and tested with full compliance with
PSA MOB PF2 PS/SPU March 1992, BS EN 12825:2001 and CISCA Standards.
STEEL CEMENTITIOUS Access Floor System
Netline Steel Cementitious Access Floor panels are manufactured with a flat steel plate of SPCC material for top surface and resistance welded to a ST14 material steel formed bottom pan. These steel panels fabricated to precise tolerances form the rigid structure and corrosion resistance treated with epoxy powder coating. A unique eco-friendly non-combustible lightweight cement mix filled the panel inner core resulting in a durable and robust panel delivering an ultimate strength and acoustic performance.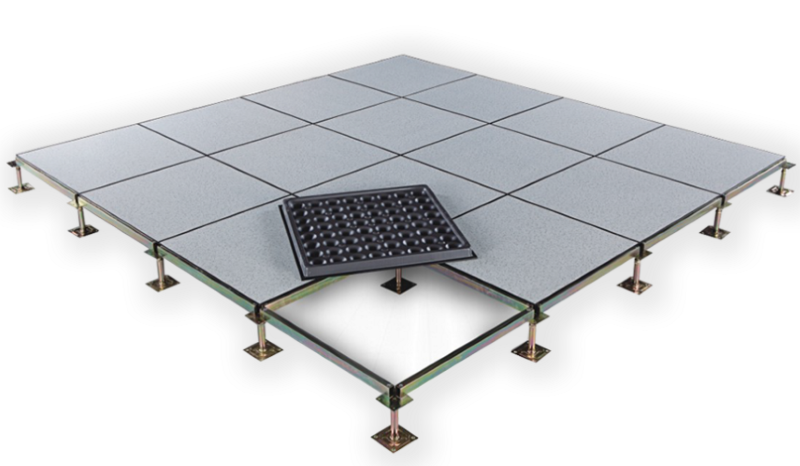 Factory laminated Finishes
Wide range of factory applied finishes available:
- Anti-Static High Pressure Laminate
- Conductive Vinyl
- Ceramic
- Granite / Marble
- Linoleum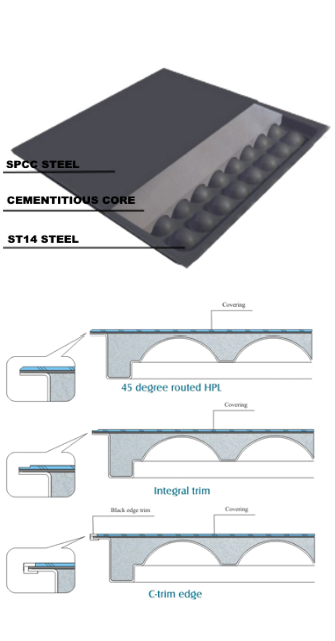 Ideal Choice
Commercial

and

Data Centre
Netline Steel Cementitious Access Floor panels are engineered and manufactured into eight load performance grades that meet and exceed the recommended test methods specified in both PSA MOB PF2 PS/SPU March 1992 and CISCA Standards.
The robust, durable, non-combustible and eco-friendly Netline Access Floor makes it the ideal choice for both Commercial and Data Centre Projects.
Netline Access Floor System addresses today's organisational needs and future technological changes with a highly adaptable space that can handle the vast amount of mechanical and electrical services while being cost-efficient.
features
- Suitable for both commercial and data centre applications
- Excellent rolling and ultimate load performance
- Lightweight cement infill makes panels solid with good acoustic performance
- Corrosion resistant with conductive epoxy powder coating
- Certified non-combustible meeting Singapore fire safety requirements
- A flexible, scalable and adaptive solution that meets today's and future needs
- Increases overall efficiency of the building and facility operations
- Reduces total operational and maintenance costs  
environmentally preferred flooring
Netline Access Floor System is Green Label certified under Category 64: Flooring Version 3 of the Singapore Green Labelling Scheme (SGLS) administered by the Singapore Environmental Council.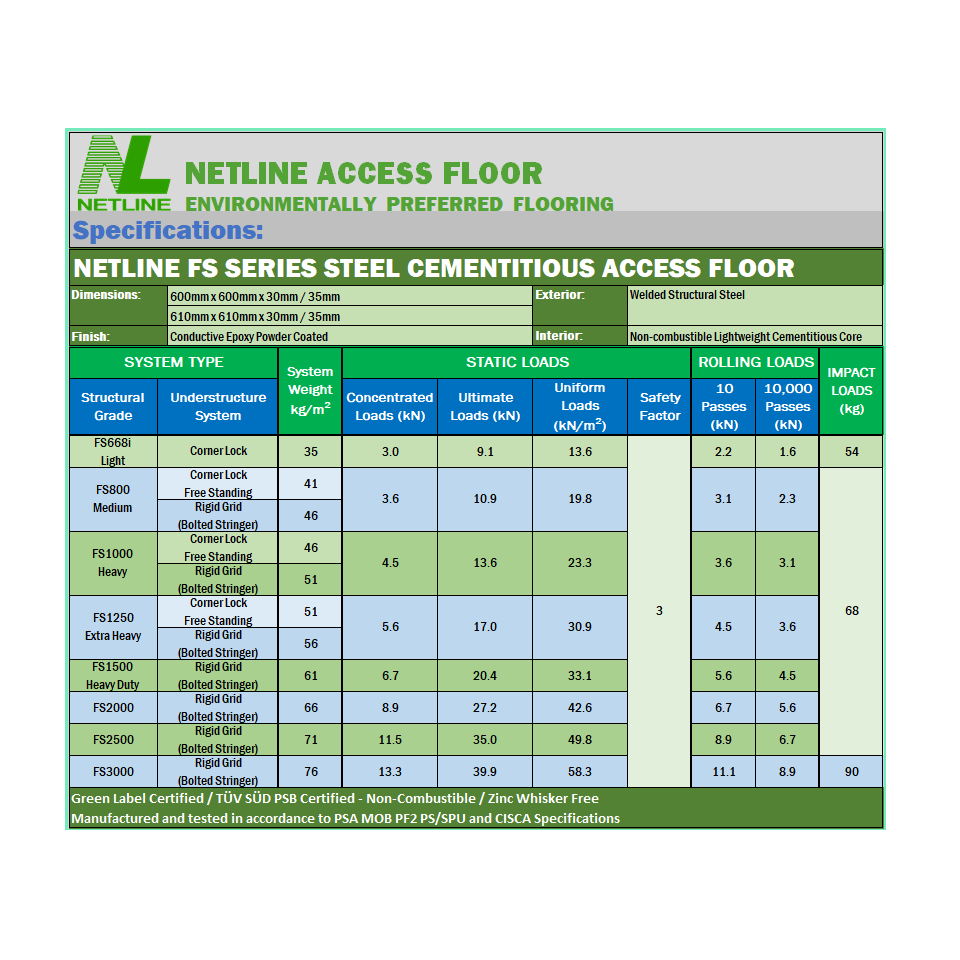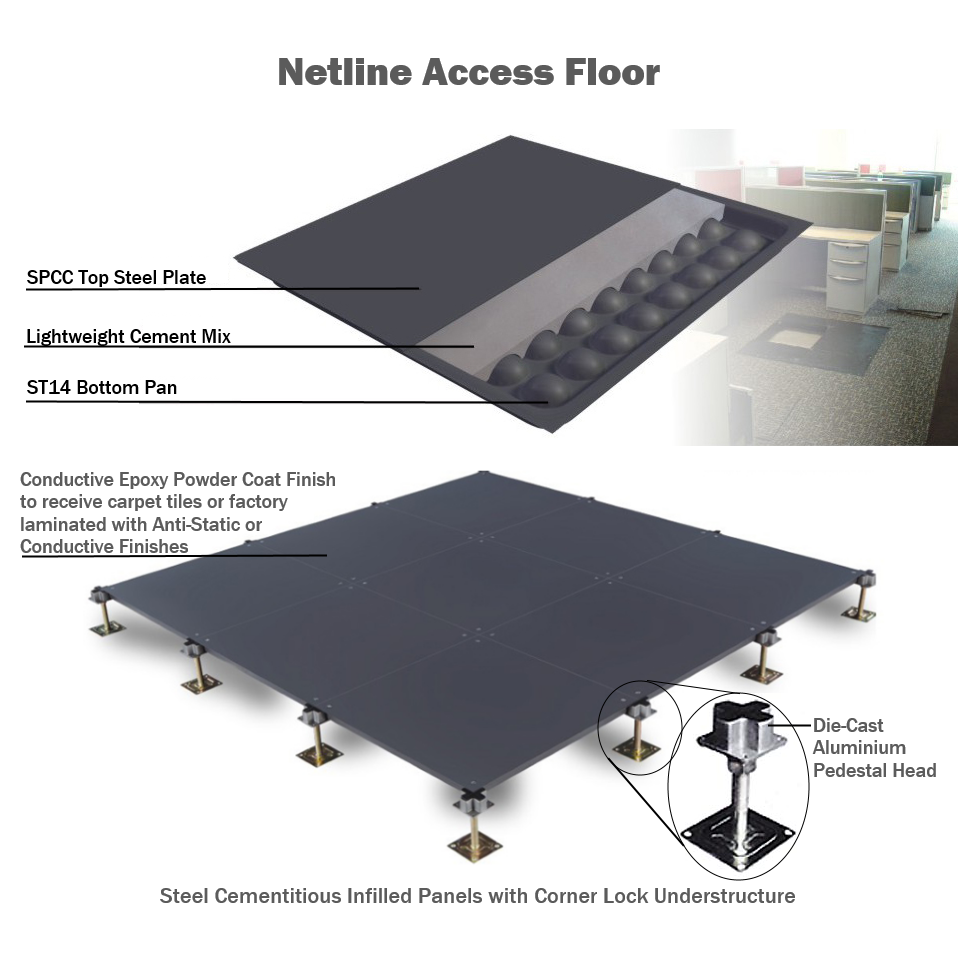 Bare Panels
Corner Lock Understructure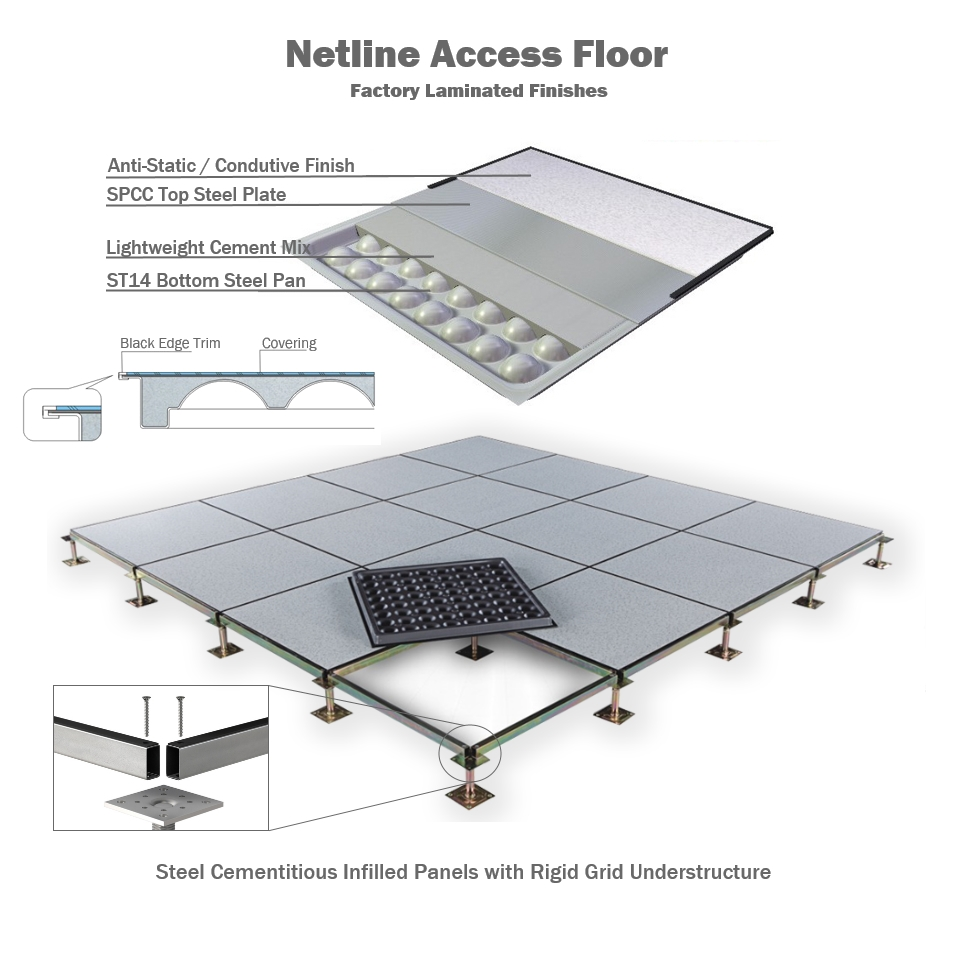 HPL Panels
Rigid Grid Understructure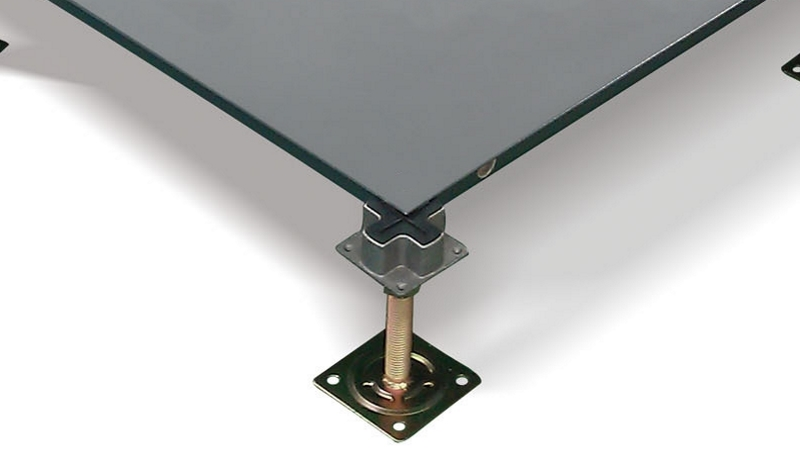 Free Standing
Free Standing Understructure System is similar to Corner Lock but without the corner screw fasteners. The die-cast aluminium pedestal's crosshead allows for quick and easy removal of panels for users accessing the subfloor more frequently while providing anti-vibration and a snug fit. The Free Standing System is suitable for offices and small computer rooms applications with light duty installations. Typical floor heights from 75mm to 300mm.
Corner Lock
Stringerless Corner Lock System can accommodate substantial floor height of up to 600mm with maximum rigidity. The conductive sound deadening gasket between the panels and pedestal's head creates a quiet, robust floor ideal for general office applications. Pedestal nut provides anti-vibration and locking features. Typical floor heights from 75mm to 600mm.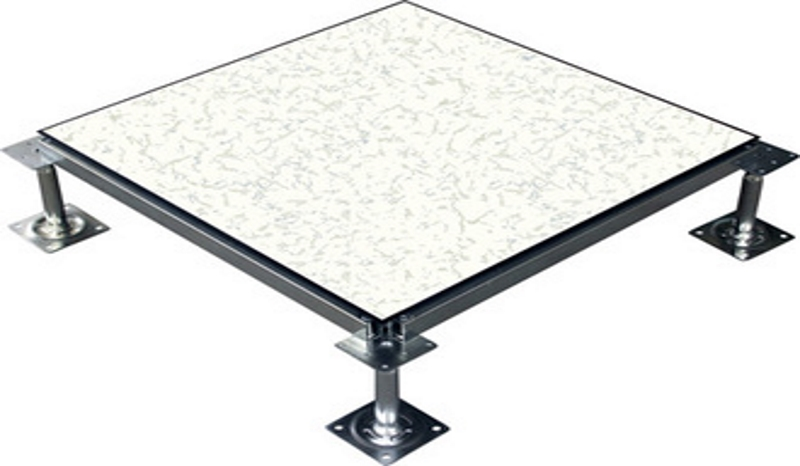 Rigid Grid
Rigid Grid Bolted Stringers System designed for computer rooms, data centres, industrial applications, and heavy rolling load areas. It provides users with quick access to the underfloor while providing increased stability. Stringers provide lateral resistance to heavy rolling loads and seismic loading. Typical floor heights from 150mm up.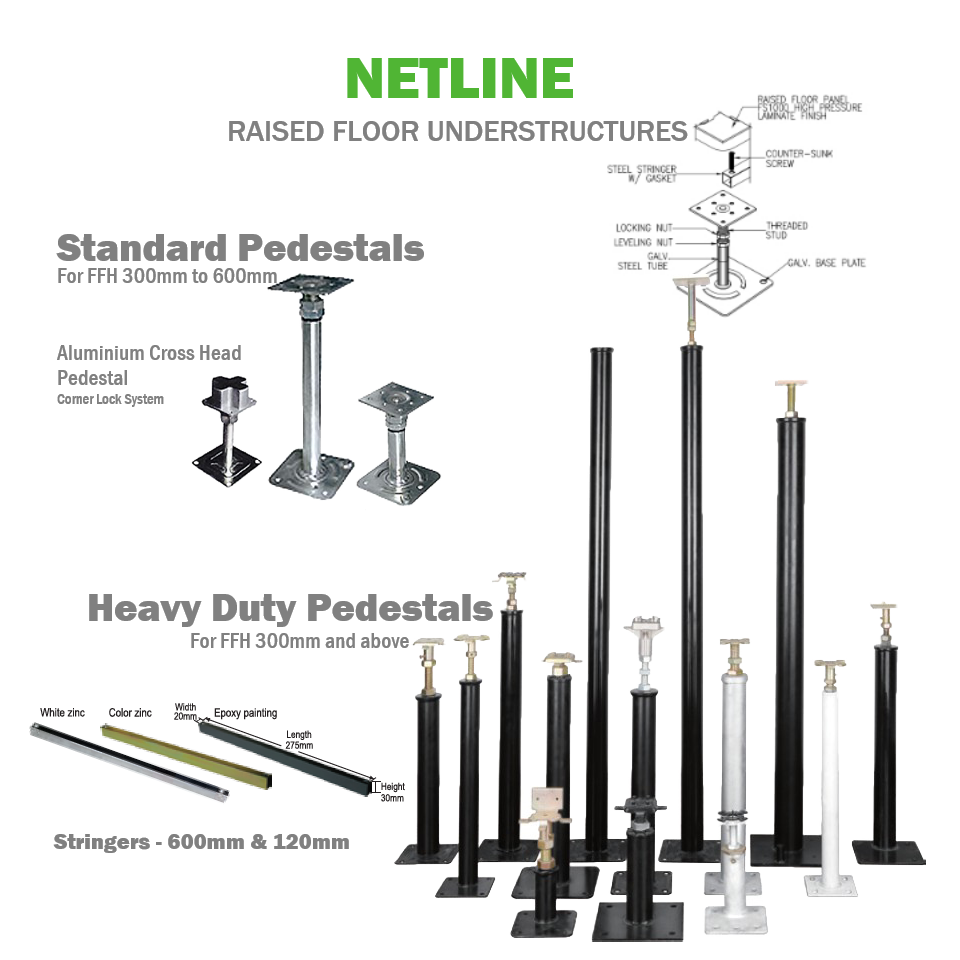 Raised Floor
Understructure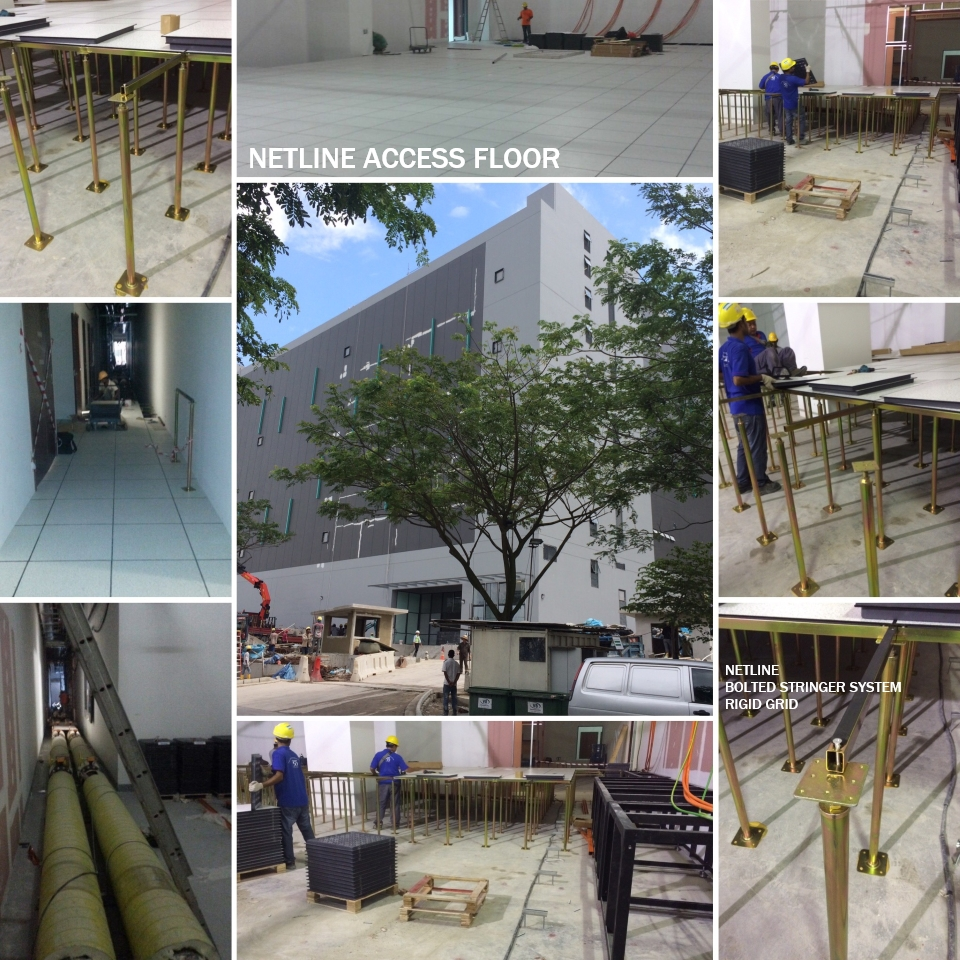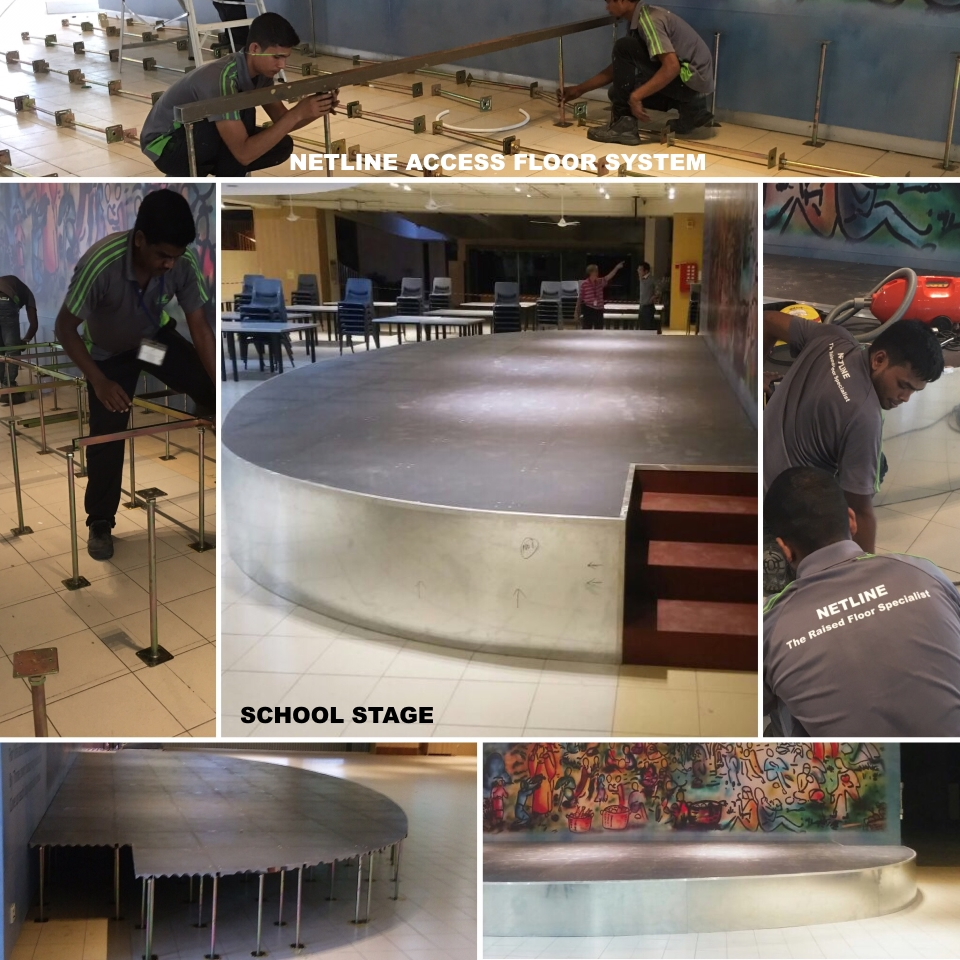 Stage Platform
Application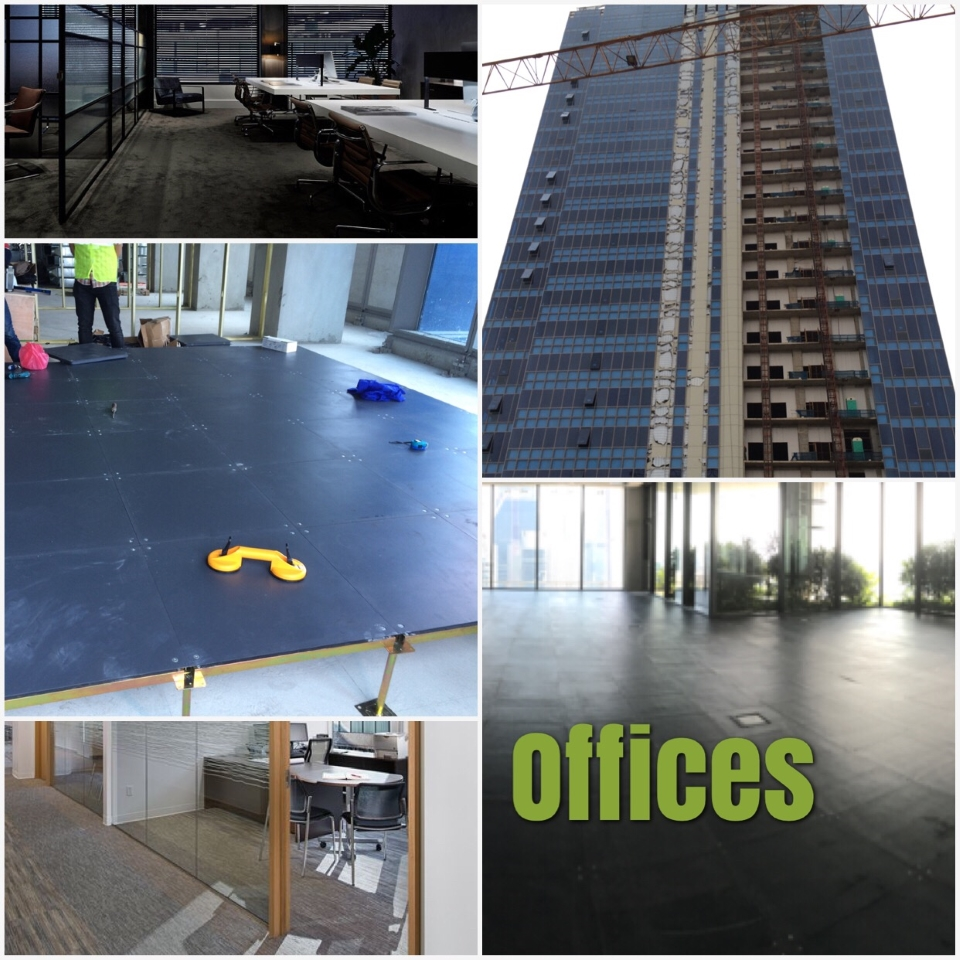 Office Building
Application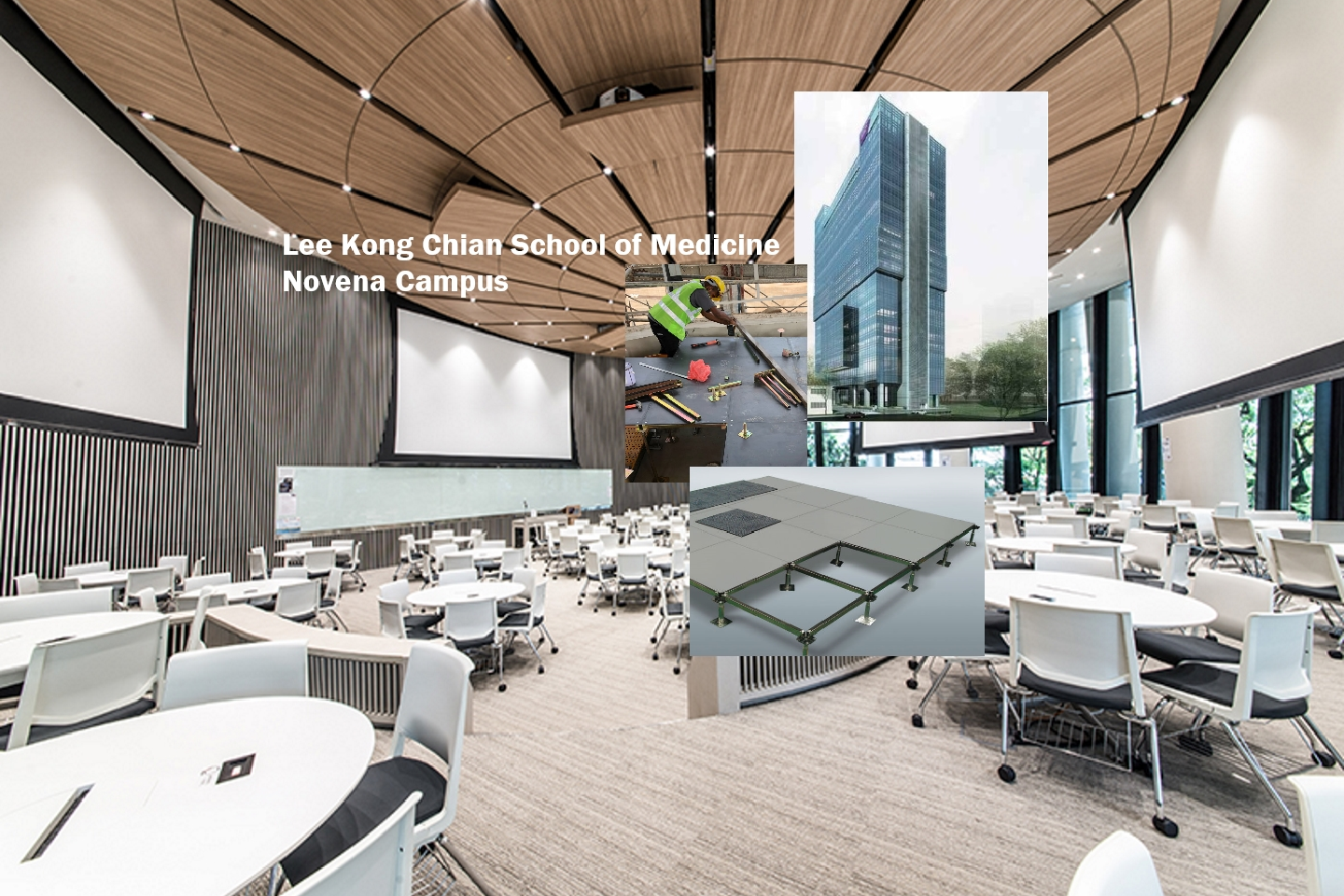 LKC School of Medicine
Novena Campus